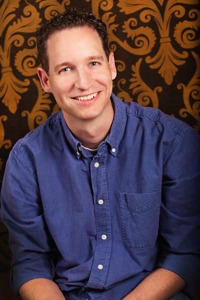 Aaron is a New York Times bestselling author, comics writer, and film producer. He cowrote the novels Invasive Procedures, Earth Unaware, Earth Afire, Earth Awakens, and the other forthcoming Formic Wars novels with Orson Scott Card.
He was also an associate producer on the movie Ender's Game, wherein he makes a cameo as an officer of the International Fleet. Blink and you'll miss him.
Aaron has written dozens of comics for Marvel, DC, and EA comics, as well as half a dozen screenplays. His play Lifeloop, an adaptation of Orson Scott Card's short story, premiered in Los Angeles and was featured at Western Illinois University.  A longtime stage improviser, Aaron is a former member of LA's Improv Factory, Santa Clarita Improv, and the Garrens Comedy Troupe. He and his wife are the parents of four children.